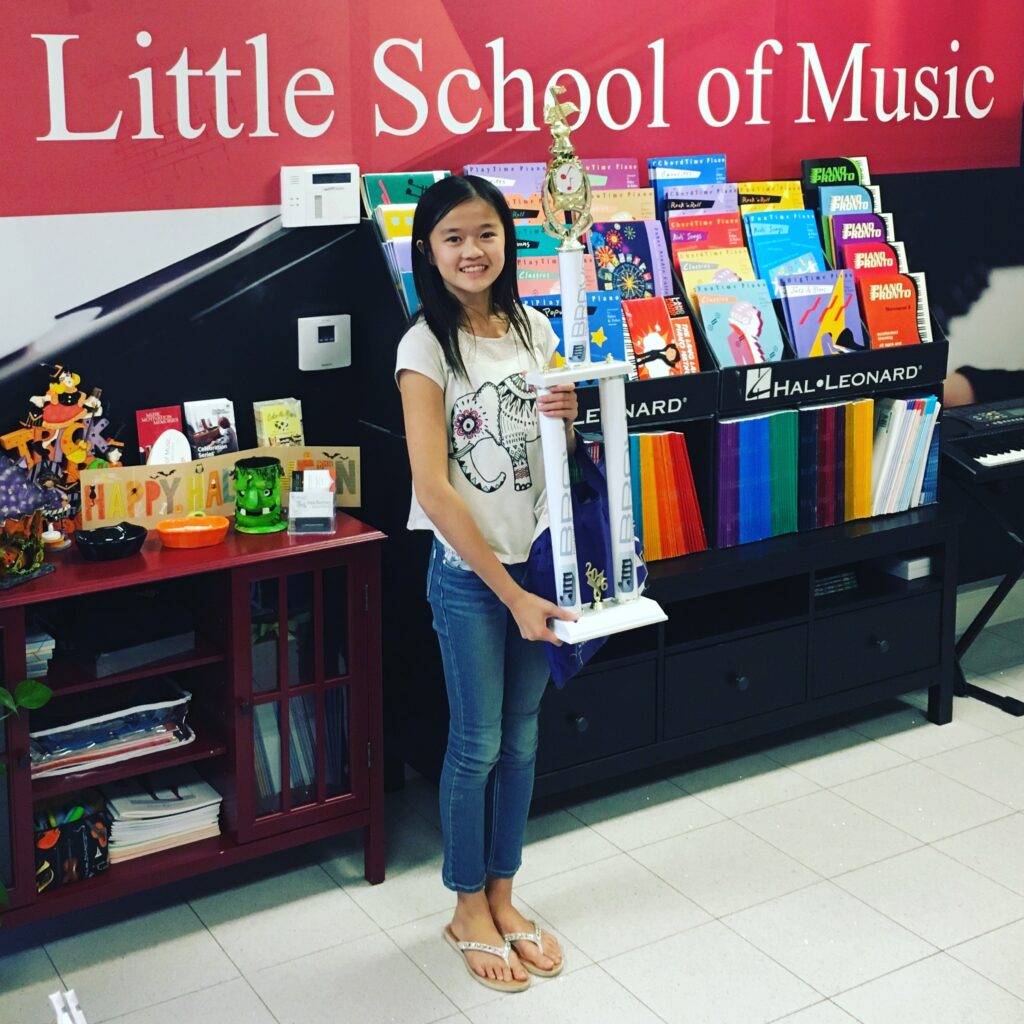 What does music mean to you?
Learning music has had an integral role in shaping me into who I am today. In my life, music symbolizes the proof of my potential of growth and expression, and serves as a hobby, a fun fact, a lesson to pass on, a refuge. Music is more than just playing the music, but also listening to music. Not a day goes by where I do not listen to music–on my walk to class, while I study, at a concert, on the radio–whether it's pop, R&B, classical, or rap, I'm always listening to music. From learning music, I have found appreciation for music, one that has allowed me to meet others who have one of the same.
Why do you play music?
Music is fun! It is the primary reason I play music. The appreciation for music that I have acquired from learning music always cycles back, encouraging me to learn pieces that I like. I've noticed that the young students I teach at the Salvation Army have a particular interest in learning music, so it has encouraged me even more to play for them and learn new melodies to pass on to them. It is a fun pastime, and the unique challenge presented when learning each new piece is better than the repetitive challenge of any video game. It is also a healthy and productive outlet for stress. I also firmly believe that practicing music improves my own academic performance.
Do you see yourself playing music for the rest of your life in some capacity? (for pleasure, professionally, as an escape, etc.)
Music will always be part of my life. While I may not be pursuing a professional career as a musician, I will always consider myself a musician at heart. I continue to play my favorite pieces for my grandparents, learn new ones for myself, and even teach the basics to my friends and students on occasion. Even if I were to try to avoid it (for some reason), I am sure that music would always find its way back into my life.
With the pressures of school, other activities, and preparing for (or attending) college, how do you make time for music? (lessons, practice, performances, etc.)
Balancing music and hobbies in general with school has been a tough adjustment that I am still learning to cope with. I have been fortunate enough to have a full-size keyboard in my dorm (thanks mom & dad) as well as roommates who enjoy hearing me play (even the new pieces, which can be quite repetitive in practice). I play whenever I have the chance after my studies in the day. There are also grand pianos around campus, so I play the one outside my favorite dining hall whenever I eat there. The music school has regular recitals and concerts, which I try my best to attend, although they are often during exam season. More recently, I have started playing songs for the children at the Salvation Army I volunteer at. I hope to incorporate a music unit into our lessons someday.
Tell us your Little School of Music story! How has Little School of Music impacted you and your family?
I first came to Little School of Music in January of 2010. I was six. My older sister had been with Little School of Music for a couple years prior (2006 I think), and was learning piano just as I would be a few years later. I used to dance to my sister's music or sit and listen with my mother, until she asked me one day if I wanted to learn too.
I said no.
The truth is, I thought it would be too hard. I didn't believe in myself. Looking back, my sister was learning just the first or second level from the Alfred series, but I simply couldn't imagine myself ever learning to decipher the black dots and lines on the sheets with ease.
But after my mother convinced me (apparently) to just give it a try, and I started the group lessons with Miss Mindy, I found myself immediately immersed in music. In that group class, I learned to read the notes, to listen to music, and to love music. With Miss Mindy's interactive lessons, my mom accompanying me behind the piano, and the friends I made beside me, I never felt nervous or afraid of failure. It was always just music and fun.
I remember loving the group lessons with Miss Mindy so much that when I "graduated", I was hesitant to ever move on to private lessons and put it off as long as possible. I didn't know then that Mrs. Jean would be the one to facilitate my learning and continue my love for piano for nearly ten more years. Throughout elementary school, my interest in music also grew and I tried other instruments, learning violin with Mrs. Chao at LSM alongside my sister as well as flute from my elementary school. From LSM I learned about and joined the SCV youth orchestra, and my appreciation for music only continued to grow from there. But LSM continued to make music fun, with regular recitals, "Music Money" to trade for prizes, the Musical Ladder System for wristbands and (large) trophies, and the end-of-the-year celebrations at the bowling alley with teachers, friends, family, and fellow students.
As I grew older with LSM and improved my music, Mrs. Jean encouraged me to complete RCM testing and compete in MTAC festivals for the first time. With the support of Mrs. Jean, preparing for exams and festivals taught me how much more there was to learn from music. I learned how to practice and how to interpret music, and gradually began incorporating my own interpretations in my playing. I learned how to push myself out of my comfort zone in order to improve my own music. I met people who are still my friends to this day!
I really did grow up with LSM. I remember being in the audience at the original location, and coming in for the first time to the new location, late for my group lesson, to an almost-empty room with Miss Mindy's mom at a portable table with her computer to sign us in. For the last few times I performed in the recital hall and the last few years I was with LSM, I remember admiring how far LSM had come.
The Phung family is incredibly appreciative of everything LSM has done for us. We have enjoyed watching LSM develop as a studio and have had the most fun enjoying the best gift of music.