By Mindy Cabral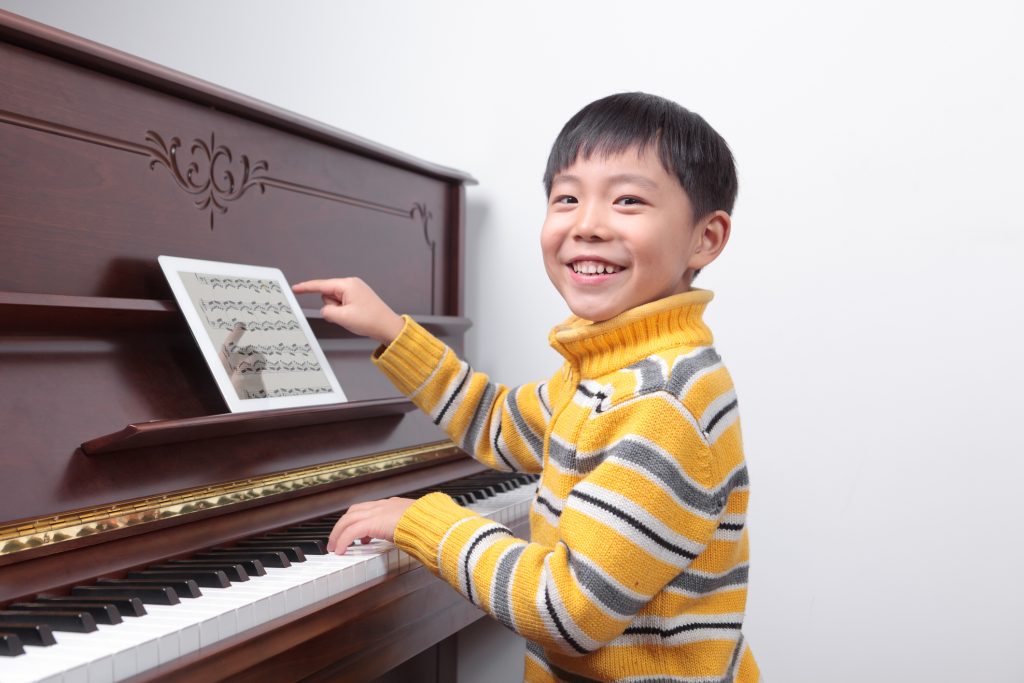 Virtual Music Lessons Who knew we would be in a virtual world of learning so quickly! Here we are, and after the past 9 months we have learned a thing or two. Below are some tips on how you can get most out of your Virtual Music Lessons.
PREPARATION
Before your virtual music lesson, make sure you have your instrument out and tuned, your music ready on the music stand, a metronome, pencil, notebook, headphones/ear buds, a USB microphone, cables, a chair (unless standing), water bottle, and other lesson materials out and ready to go (valve oil, guitar pick, bow rosin…). Plan to login to your Zoom meeting a few minutes early incase there are technical or connection issues.
CONNECTING
Connecting through high-speed internet that is hard wired to your device (not through wi-fi) will provide the best connection. Many people do not have this option, so connecting with the fastest internet you have available should be ok. If you have connection issues using wi-fi, try moving to another room in your home. You may also want to limit the number of devices connected to your wi-fi at the time of your virtual music lesson.
Once you connect to the meeting, you will be placed in a waiting room until your teacher admits you into the meeting. If you are unable to connect, contact the LSM front desk immediately for assistance: 661-222-2239
PLACE/ENVIRONMENT
The best place to have your lesson is a quiet space with plenty of light, and limited distractions. You will also need to make sure you have enough space for your instrument, music, device, and other lesson materials.
DEVICES & EQUIPMENT
When possible, we suggest Computer/Laptop. If a mobile device or tablet are the only devices available, it's ok. The larger the screen, the better. Be sure you have a charger already plugged in for your device even if it is already charged up. You may also need to play music during the lesson through speakers. It would be a good idea to have this ready ahead of time. We also recommend using a USB Microphone for better sound quality. It will make a big difference from the standard computer/device mic. Here are some suggested options:
CAMERA ANGLES
Your teacher can only see what your camera is showing on the screen so check the angle of the camera to make sure your teacher can see you playing your instrument as well as your face. Teachers may request a different angle or to view your music, etc. Be ready to make adjustments or show them what they need to see if they ask.
If you want to go the extra mile and are using a computer/laptop that has a built-in camera, you can set up a webcam for a second camera angle. Or, you can login with 2 different devices and disable the sound on one of them. Once the webcam is plugged in (or you have both devices ready) set the camera angles where you want them.
For example, you might position the webcam on you instrument so your teacher can see your hands playing while your computer camera is focused on your face and body for posture and communication. In Zoom, you can easily change the camera that is broadcasting by clicking the arrow next to the video icon and selecting the camera you want. If you have 2 devices connected you can switch to gallery view and see all the camera angles at once.
LIGHTING
Lighting is important so your teacher can see what you are doing when you are playing. Without getting too fancy with special lights, the easiest way to light up your lesson is with natural light from a window. You'll want to position yourself so you face the window and have the light from outside on your face and instrument. If you have a lesson in the evening or in a room without windows, be sure you have plenty of light so your teacher can see you and your instrument clearly.
SOUND SETTINGS
Zoom has a new High-Fidelity setting for music! This option is currently available for computers and laptops, but not for mobile devices and tablets. Here is a video and article on how to set this up on your computer:
Article: https://blog.zoom.us/high-fidelity-music-mode-professional-audio-on-zoom/
WHAT TO EXPECT DURING THE VIRTUAL MUSIC LESSON
Check to make sure your volume is up and that you are not muted! During the virtual music lesson, you can expect slight delays with the sound due to the time it takes for the signal to transmit back and forth across the internet. Because of this you and your teacher will have to take turns in the lesson playing and talking. Listen carefully to your teachers instructions. They may ask you to play certain measures or sections of music and to stop, ask to see your sheet music, among other specific directions. Limiting the background noise, especially if you have the high-fidelity sound enabled, will be very important so the teacher can hear you clearly.
If the sound is distorted or washing in and out it may be that the sound going through the microphone is too loud. If you hear this, let your teacher know and they can try backing off their mic or lowering their mic volume.
Just like in-person lessons, virtual music lessons will cover well-rounded musicianship skills. This includes warmups, technique, repertoire, etudes, music theory, listening and reading skills, and other areas of practice specific to you and your individual musical goals.
QUESTIONS? HAVE MORE TIPS FOR US TO SHARE BASED ON YOUR EXPERIENCE?
Please contact us and share them with us!